Information

abo

ut

COLANDIS
COLANDIS GmbH - the clean air company - is a family-run company for cleanroom technology and contamination control. The 1996 established 'Cleanroom Technology Jena' was turned into COLANDIS GmbH in 2002. Since 2016 it is managed by Joachim Ludwig and his daughter Ina Henze-Ludwig together. The initial 2 employees could be expanded to a number of 29 employees meanwhile. We are a well-trained team that is evolving constantly.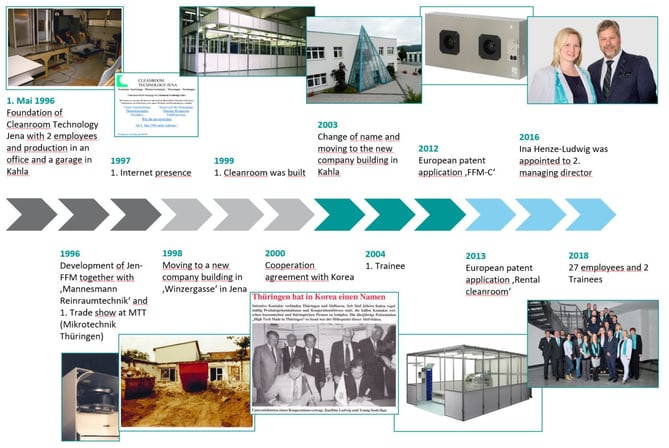 We support our customers from process analysis, development and production up to qualification of the individual products as well as with cleanroom and cleanliness suitability tests with our experience and extensive knowledge in the field of cleanroom technology and contamination control.
We listen carefully to our customers to understand their production processes. Thanks to close consultation, the best solutions for protecting the process steps can be found. Our customized products are constructed and build in-house. We have a production area with different airborne particulate cleanliness classes at our disposal for this purpose. They enable us to carry out tests for cleanroom and cleanliness suitability tests under the best conditions.
The best solution to protect the single processes can be but does not have to be a complete cleanroom. Such a solution could be a minienvironment or a special solution. We offer tailor-made solutions and guarantee consistently high conditions for the production processes with our products.
As a medium-sized company, we maintain close contact with our customers and attach particular importance to long-term cooperation. We will gladly continue to support you even after the project has been completed. Our products are used worldwide in various industries. Openness and trust are valued and absolute reliability is offered. The satisfaction of our customers is our incentive.
With commitment for a high employee satisfaction COLANDIS convinces not only its employees but received awards already for it, like the "Thüringer Siegel für Gesunde Arbeit" (Thuringian Seal for healthy work), "Finalist at Großer Preis des Mittelstandes" (Finalist at Grand Prix of medium-sized businesses) and Joachim Ludwig received the award as "Unternehmer des Jahres" (Entrepreneur of the year) from BVMW for example.
Cleanroom technology range of services:
Our products are used in various industries worldwide such as the semiconductor industry, electronics, surface coating, optical industry, microsystems technnology, biotechnology, automotive industry, medical technology, precision engineering, research and development. We support our customers with high-quality tailor-made products, flexibility and a good price-performance ratio.
---
Take advantage of the possibilities of our networks!